Great Impressions: The Art & Technique of Rubber Stamping
by Patricia Garner Berlin
Soft Cover, 96 pages, color photos throughout
Crafts - Rubber Stamping
ISBN - 1-886388-01-6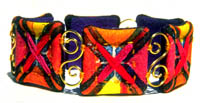 This 96 page, full color book covers the use of commercial produced stamps as well as how to make your own, and much more. Chapters include:
Original Stamp Pad Art

Stamp Pads and Ink
Using Color Markers with Stamps
Cleaning, Storing and Mounting Your Stamps
Carving Your Own Rubber Stamps
Paper
Don't Stop with Paper!
Who Was That Masked Stamp?
Embossing
Stamping and the Photocopier or Laser Printer
Stamp Out Boring Mail!
Recycling
Displaying Your Creations
Making Paper Jewelry with Stamped Images
Polymer Clay and Stamp Art
Arts and Ends
Handmade Books
Quilts, Clothing and Rubber Stamps
Calligraphy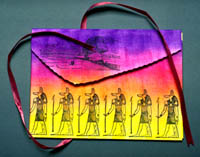 Carving and stamping is an easy, inexpensive and satisfying pastime that can be gratifying for beginners as well as for those more advanced. The rewards are immediate and results can range from the uncomplicated and lovely expressions of children and novices, to complex and deeply personal statements by serious fine artists. The possibilities are exciting and the fact that anyone can explore the pleasures of hand-carved stamps should have us all running out to buy erasers and get started.
Rubber stamping is not new, but it has only been in recent years that my enjoyment of stamps and stamping has been enhanced by my ability to make my own rubber stamps as part of the creative process. I am very appreciative for the advice given me by Patricia Garner Berlin, who is an excellent teacher.
Learning a new technique is fun and offers the thrill of anticipation as the work reveals the artist's labor. Carving a rubber stamp is an easy way to have fun and be creative. The examples pictured in this book speak volumes about the opportunities for expression in this uncomplicated, yet eloquent, medium. For the beginner, stamping may open the door to a long-term interesting hobby. In the hands of an experienced artist, stamping may produce astounding results.
You may become seriously hooked on stamping, or you may discover a great hobby. In either case your investment in time will not be wasted and the cost will come back to you in the form of gratification, as it always does when you work with your hands.
In what follows, Pat Berlin gives us a great introduction to hand-carved stamps and offers many applications with the same lightness and encouragement with which she teaches. Her rich background and years of experience will be evident to old friends and new readers alike.
Ruth Ann Petree