My Nose Is Running
Written by Louise Bonnett-Rampersaud.
Illustrated by Edie Harper
Hard Cover, 22 pages, illustrated in color
Children
ISBN - 1-886388-14-8
After her mother says her nose is running, a little girl
who needs to sneeze tries to imagine where she might find it.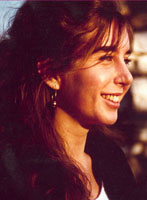 Louise Bonnett-Rampersaud is truly excited about her debut into the children's book world with My Nose is Running. Born in Manchester, England, Louise spent her formative years on both sides of the "big pond" (the Atlantic Ocean), and sees that as an influence in many of her literary endeavors. She has a journalism degree from The University of Maryland and currently works in the field of advertising. She lives in Sandy Springs, Maryland with her husband, Richard, and their "absolutely spoiled rotten" dog, Guinness.
Edie Harper is widely known for her limited edition silk screen prints of childhood memories, cats and Biblical subjects. She has also worked with photography, enameling, jewelry design, tapestry weaving and painting, finding that each of these pursuits enriches the others.
Edie Harper spent her childhood in Liberty, Missouri. She graduated from the Art Academy of Cincinnati and now shares a studio with her husband and their son in Cincinnati.