The New Clay
by Nan Roche
Soft Cover, 160 pages, illustrated in color
Crafts - Polymer Clay
ISBN - 0-9620543-4-8
Glorious, colorful beads, pins, earrings, buttons and jewelry - all of these things and more can be yours for a few dollars worth of materials (Fimo™, Sculpey™) and the use of your own two hands. You will see such striking pices in this book that you are likely to become an addict even if you never had considered making your own jewelry before.

Everything you need to know to be successful with the "new clay" is covered clearly in this book. Over 100 color photographs show you the exciting work others are now doing with this wonderful material. Detailed diagrams show you clearly and exactly how to get the most fantastic effects - designs that appear impossibly complex and beautiful turn out to be quite easy to do.

Click on the pages to the left to see high-quality PDF images.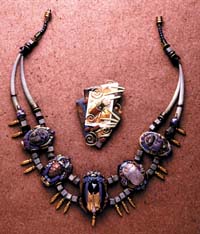 Contents include:

Introduction
The Aim of this book
Background
What is it?

The Basics
The different brands
Safety notes
Storage
Baking

Tools
Hands
Surfaces
Cutting tools
Piercing tools
Texturing tools
Rolling tools
The food processor

Color
The color wheel
The primary and secondary colors
Hue, value and intensity
Complementary colors and color
Harmony
Contrast
Strategies for color mixing

Design
Proportion
Shape
Value
Depth
Color
Texture/pattern

Getting started
Clay preparation
Marble and imitation of natural materials

Basic shapes
The ball: formation and techniques The Log or snake
How to roll an even snake
Cutting the log
Piercing beads
Different piercings
Techniques
Freeform design
Surface decoration
Wrap beads
Your first cane
Filler beads
Folded beads
Checkerboard
Candy canes: techniques
Surface decorations
Disk beads
Shells
The Sheet: use and formation Sheet formation
Freeform folding
Flatwork
Marquetry
Jellyrolls
Stripes and plaids
Simple stripes
Pinwheel
Plaid
Splicing
Chevrons
Color shading
Feathering
Checkerboards
Seminole patchwork
Mokume cane
Techniques with logs and sheets
Wrapping
Cut and insert technique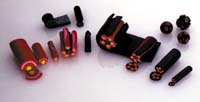 The cane and loaf
Simple canes
Composite canes
Reduction
A pattern cane
Figure and face canes
Techniques
The star
Fish scales
The flower
The face
Signature cane

Surface treatments
Texture
Chasing
Stamping
Surface materials
Paints
Glitters and powders
Metal foils
Transfers
Molding
Collage

Sculpture
The human form
Caneworking and building figures
Bas-relief
3-dimensional dolls
Armatures
Peoplemaking
Stuffed dolls
Vessels
Slabworking
Sheets
Coiling and pinching

Findings and additional applications
Books
Bracelets
Buttons
Wall pieces
Findings
Necklaces
Pins and earrings
Other applications

Afterward

Appendix
About plastics and hazards
Selected bibliography
Glossary
Artists listing
Suppliers