The Macrame Book
by Helene Bress
Soft Cover, 146 pages, full color photos throughout
Craft - Macrame
ISBN - 1-886388-15-6
Please click on the pages to the left to see high-qualidy PDF images from this book.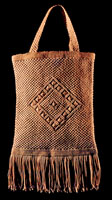 This very comprehensive book on the popular craft of macrame can be used by beginners and experts alike.
It explains the basic knots and their variations and describes the equipment and materials needed to begin. After giving patterns and directions for simple projects like belts and necklaces it proceeds to bags and purses in great variety, dress accessories and hangings.
More advanced techniques, such as twinning and wrapping, combining macrame with rug knots and with weaving are fully explained. The use of other materials is suggested - beads, shells, feathers, ceramics. What starts as a craft really progresses to an art form in abstract design.
The numerous illustrations, both diagrams and photographs, clarify the techniques at every stage. Some outstanding designs by contemporary artists are featured and these, combined with the author's own enthusiasm and expertise, should inspire the reader to create original pieces of decorative art.
Contents

Acknowledgments
1. In the Beginning page 1
Materials Needed to Begin
To Begin: Overhand Knot
Square Knot
Square Knot Project #1
Square Knot Project #2
Double Half Hitch
Sash Using Double Half Hitch: Project #3
Diamond Belt: Project #4
Belt: Diamonds with Variations: Project #5

2. Themes and Variations page 17
Square Knots
1. Sennit of Square Knots
2. Sennit of Square Knots Using One Light- Colored Knotting Cord and One Dark Knotting Cord
3. Square Knot Sennit with Spaces
4. Two-Color Square Knot Sennit with Bead
5. Square Knot Sennit with Knotting Cords and Core Cords Switching Positions for an Interesting Color and Design Effect
6. Two-Color Square Knot Sennit with Overhand Knots
7. Square Knot Sennit with Overhand Knot Variations
8. Two-Color Square Knot Sennit with Overhand Knot and Bead
9. Two-Color, Six-Strand Square Knot Sennit
10. Square Knot Sennit with Overhand Knots at the Edges of Every Other Square Knot
11. Spiral Sennit of Half Square Knots
Spirals
12. Spiral Sennit of Half Square Knots
13. Spiral Sennit Interrupted with Bands of Whole Square Knot Sennits
14. Spiral Sennit with Beads
15. Spiral Sennit with Direction of Twist Changing After Four Half Square Knots
16. Spiral Sennit with Direction of Twist Changing After Seven Half Square Knots
17. Spiral Sennit with Direction of Twist Changing After Fifteen Half Square Knots
Square Knot Variations
18. Square Knot Sennit with Picots
19. Square Knot Sennit with Picots of Graduated Sizes
20. Six-Strand Square Knot Sennit Using Only Two Core Cords and Two Knotting Cords at One Time
21. Alternating Square Knot Band: One and One
22. Alternating Square Knot Band: Two and Two
23. Alternating Square Knots with an Open, Net-like Effect
24. A Pattern of Alternating Square Knots Using Two Colors
25. Alternating Square Knots with Knotting and Core Cords Changing Places
26. Alternating Square Knots and a Cross-over of Square Knot Sennits
27. Square Knot Sennit with Raised Picots Double Half hitch Variations
28. Rows of Horizontal Double Half Hitches
29. Rows of Horizontal Double Half Hitches with Spaces In Between
30. Diagonal Double Half Hitches
31. Diagonal Double Half Hitches to Form a Diamond
32. One Diamond Completed and Another Started
33. Xs Made with Double Half Hitches
34. Double Diamonds with Double Half Hitches
35. Diamond Variation
36. Double Half Hitch Variation
Fanciful Variations
37. Diamond with Square Knot Acting as a Gathering Knot
38. Diamond with Alternating Square Knots
39. Diamond with Square Knot Sennit and Bead
40. Diamond with a Spiral and Square Knots
41. Diamond Variation
42. Diamond Variation
43. Weaving within a Diamond
44. Double Diamond with Two over Two Weaving in Center
45. Shaping with Double Half Hitches
46. Pattern with Diagonal double Half Hitches
47. Flower Shape with Double Half Hitches
Angling
48. Angling with Horizontal double Half Hitches
49. Angling with Horizontal Double Half Hitches, Using Vertical Double Half Hitches for Textural Contrast
50. Angling Back and Forth with Horizontal Double Half Hitches
51. Angling with Horizontal Double Half Hitches, using Vertical Double Half Hitches for a Textural Change
52. Angling and Shaping with Horizontal Double Half Hitches and Sennits of Square Knots
53. Angling and Shaping with Horizontal Double Half Hitches and Alternating Square Knots
54. Angling with Horizontal Double Half Hitches (Variation)
Shell Knots
55. Shell Knot Button Using Square Knots and Double Half Hitches. Eight Cord Method
56. Shell Knot Button with Decorative Insert of Chain Knots
57. Shell Knot Button Made with Ten Cords
Vertical Double Half Hitch Variations
58. Vertical Double Half Hitches with Picots
59. Vertical Double Half Hitches with Exaggerated Picots or Swirls
60. Vertical Double Half Hitches with Some Unknotted Area
Cavandoli
61. Cavandoli Stitch
Combinations
62. Double Half Hitches and Square Knots
63. Decorative "Woven" Diamond
64. Alternating Overhand Knots
65. Strands of Cords Decorated with Overhand Knots
66. Overhand Knots in Two Different Patterns
Half Hitch Variations
67. Half Hitch Sennit That's Been Allowed to Spiral
68. Half Hitch Sennit with Knotting Cords Alternating
69. Half Hitch Sennit Variation: Two and Two
70. Half Hitch Sennit Variation: Three and Three
71. Half Hitch Sennit: Random Pattern
72. Half Hitch Sennit with Knotting Cords Alternating and Core Cords Split
73. Half Hitch Chain or Chain Knot Sennit
74. Half Hitch Chain or Chain Knot Sennit, Variation
75. Square Knot Sennit with Raised Picot Made of Chain Knots
Josephine Knots
76. Spaced Josephine Knots
77. Two-Colored Josephine Knot Band with a Short Sennit of Square Knots
Reversed Double Half Hitches and Variations
78. Reversed Double Half Hitch Sennit with the Knots Forming on the Left Side Only
79. Reversed Double Half Hitch Sennit with the Knots Forming on the Right Side Only
80. Reversed Double Half Hitch Sennit with the Knots Forming on Both Outside Edges: One and One
81. Reversed Double Half Hitch Sennit: Two and Two
82. Varied Pattern of Reversed Double Half Hitches
83. Six-Strand Reversed Double Half Hitch Pattern Using Only Two Core Cords
84. Two Interlaced Sennits of Reversed Double Half Hitches
85. Two Interlaced Sennits of Reversed Double Half Hitches in a Varied Pattern
Headings
86. Reversed Double Half Hitch with Band in Front
87. Reversed Double Half Hitch with Band in Back
88. Cords Mounted With Double Half Hitches
89. Cords Mounted With Double Half Hitches and a Small Picot
90. Cords Mounted with Double Half Hitches and a Large Picot
91. Cords Mounted with Double Half Hitches and a Double Picot
92. Cords Mounted with Double Half Hitches and a Triple Picot
93. Reversed Double Half Hitch Mounting with Inner Cords of One Color and Outer Cords of Another Color. Band in Back
94. Reversed Double Half Hitch Mounting with Inner Cords of One Color and Outer Cords of Another Color. Band in Front
95. Two-Color Mounting with Double Half Hitches, a Picot, a Reversed Double Half Hitch
96. Two-Color Mounting with Double Half Hitches
97. Mounting with a Single Overhand Knot and Double Half Hitches
98. Mounting with a Single Overhand Knot, Bead, and Double Half Hitches
99. Mounting with Double Half Hitches and an Overhand Knot Around the Fold of the Mounting Cords. Small Picot
100. Mounting with Double Half Hitches and an Overhand Knot Around the Fold of the Mounting Cords. Large Picot
101. Mounting with a Bead on Top, an Overhand Knot, and Double Half Hitches
102. Small Single Chain Knot Sennit and Double Half Hitches
103. Single Chain Knot Sennit and Double Half Hitches
104. Small, Double Chain Knot Sennit and Double Half Hitches
105. Double Chain Knot Sennit and Double Half Hitches
106. Reversed Double Half Hitched Scalloped Mounting
107. Pointed Heading of Square Knots Mounted with Double Half Hitches
108. Another Method of Making a Pointed Heading
109. Single Square Knot Heading with One Picot within Another
110. Square Knot Heading with One Picot with Another
111. Single Square Knot Heading with One Picot Beside the Other
112. Square Knot Heading with One Picot Beside the Other
113. Square Knot Heading with Three Picots, One Beside the Other
Circular Pieces
114. Circular Piece # One
115. Circular Piece # Two
Increasing Cords
116. Adding or Increasing the Number of Cords
Shaping
117. Shaping Pieces: Sample

3. How Long Is Long Enough? page 59
Equipment
Accessories For Use with Macramé
Measurements
Shortening Cords
Splicing
Appropriate Materials

4. Beginnings and Endings - and Some In-Betweens page 71
Endings
Beginnings
Belts and Sashes
Necklaces
Earrings
Purses
Pillows
Mats
Bottles

5. Divine Inspiration: Design page 91

6. Widening Horizons: Unique Ways with Macramé page 103
Wrapping
Rya or Ghiordes Knot
Enclosing an Object
Enclosing a Three-Dimensional Item

7. Combining Craft Techniques page 111
Weaving and Macramé
Ceramics and Macramé
Other Art Forms and Macramé

8. Spreading the Word: Teaching Others page 117
Using a Strip Sampler
Vertical Sampler
Workshops

9. Artists at Work page 127
Wall Hangings
Jewelry
Miscellaneous

Bibliography

Suppliers

Index of Artists

Angling Chart